Ocean Cleaning Technology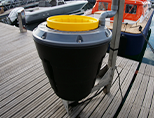 The SEABIN is a revolution in ocean cleaning technology and focuses on SDGs (No.14). The idea is to build a sustainable floating garbage bin that could collect water-borne plastics and trash 24 hours a day.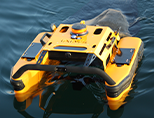 The JELLYFISHBOT is a marine drone that collects floating waste and oil spills by using remote controller or autonomy operation based on GPS.
It focuses on SDGs (No.14).
Asbestos Detector
We are distributor of Alert Technology Ltd in UK. The "ALERT PRO 1000" we introduce is the world's first affordable portable detector that gives workers a continuous test for airborne asbestos, alerting you to the potential presence of asbestos fibers in the working atmosphere.
H&K Product Sales

H&K Ltd is a polyurethane system house 100 percent owned by Heisen Yoko. We provide HEI-CAST thermoset polyurethane materials, which have similar properties to mass-produced injection-moulded products, from engineering plastics to elastomers. We take orders for materials used in trial manufacture of car parts and small lot orders for materials used in final products. Our orders come from all over the world, especially growing auto markets like China, India and Brazil.
Raw Material Sales

Heisen Yoko began in 1920 as an importer and seller of chemicals from Bayer AG of Germany for treating rubber additives (vulcanisation accelerator and antioxidants). Since then, we have become experts in rubber and elastomers, focussing on Covestro's raw polyurethane, Lanxess's polymer and rubber additives.
Machinery and Software Sales

In 1959, we signed a contract to become the sales agent for Wallace Instruments of the United Kingdom and since then have been providing various instruments and test equipment for the rubber and plastic industry. In recent years, we have also begun supplying software to support Japan's research and development.
Import and Sales of Specialist Equipment
Since we began importing Bayer AG's products from Germany in 1920, Heisen Yoko has constantly been finding superior products and importing them from around the world. There has been remarkable growth in developing markets in recent years, and we believe our success in the Japanese market will help us build a reputation in those developing markets. We provide effective marketing and sales support for our overseas partners in the Japanese domestic market.